Nuashonrú ar fho-dhroichead Chúil Liatháin – Update on the Coolyhane Underbridge
site-admin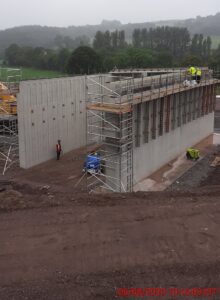 Nuashonrú ar fho-dhroichead Chúil Liatháin
Mar is eol dóibh siúd ina gcónaí in Iomaire, Cúil Liatháin nó Baile Mheasaigh tá dul chun cinn suntasach déanta le tógáil Fho-dhroichead Chúil Liatháin le roinnt míonna anuas. Is é an struchtúr is sofaisticiúla de na droichid uile sa chonradh trí chéile é agus tá an obair ag dul ar aghaidh go maith ag an bpointe seo. Bhí orainn Bóthar Chúil Liatháin (Bóthar an Mhuilinn) a dhúnadh le déanaí chun an droichead seo a thógáil agus tá an dul chun cinn atá déanta air an-sásúil. Trasnóidh an N22 nua an droichead seo agus déanfar ailíniú ar Bhóthar Chúil Liatháin (Bóthar an Mhuilinn) ionas go rachaidh sé faoin droichead.
Léiríonn na grianghrafanna seo na hoibreacha tógála a bhí ar bun le déanaí ar an droichead.
Leagadh na bíomaí coincréite réamhtheilgthe tosaigh ina n-áit ar an Déardaoin 6 Lúnasa. Aonaid iad na bíomaí seo den chineál MY agus thánadar ó Banagher Precast i gCo. Uíbh Fhailí. Tá na bíomaí iad féin 9m ar fhaid go neasach agus 4 thonna meáchana i ngach ceann.
Cuireadh na bíomaí seo ar na fallaí coincréite a bhí tógtha ag foireann suímh an chonraitheora. Déanfar an deic choincréite don charrbhealach nua a theilgean thar na haonaid seo sna seachtainí romhainn.
Tá iarratas déanta arís ag an gconraitheoir Dúnadh Bóthair a chur i bhfeidhm ar Bóthar Chúil Liatháin (Bóthar an Mhuilinn) ar feadh tréimhse 5 seachtain ag tosnú ar an Luan 7 Meán Fómhair. Má ceadaítear é, cuirfidh dúnadh bóthair seo ar chumas an chonraitheora ailíniú Bhóthar Chúil Liatháin (Bóthar an Mhuilinn) a thógáil ionas go rithfidh sé faoin droichead nua rud a thabharfaidh an chuid seo den tionscadal chun críche.
Is mian leis an gconraitheoir buíochas a ghabháil le cónaitheoirí Bhaile Mheasaigh, Chúil Liatháin, Firville agus An tIomaire as a gcomhoibriú leis an gcéad dúnadh bóthair agus táthar ag súil gur féidir an obair a chríochnú san am atá leagtha síos chun an cur isteach is lú agus is féidir a bheith aige go háitiúil.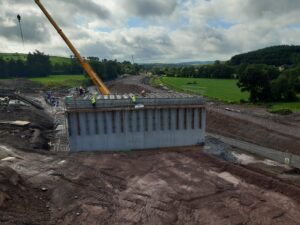 Update on the Coolyhane Underbridge
As anyone living in the Ummera, Coolyhane or Masseytown knows, there has been significant progress with the construction of the Coolyhane Underbridge over recent months. This structure is the most advanced of the 130 structures included in the overall contract and is progressing well at this point. The recent closure of the Coolyhane Road (Mill Road) was necessary to facilitate the construction of this bridge and it is gratifying to see it taking shape. The new N22 road will pass over this bridge and the Coolyhane Road (Mill Road) itself will be realigned to pass underneath.
These photos show recent construction works on the bridge.
The first precast concrete beams for the job were dropped into position on Thursday 6th August. These beams are MY type units, supplied by Banagher Precast in Co Offaly. The beams themselves are approx. 9m long and weighing 4 Tons per unit.
These beams were placed onto the concrete walls recently constructed by the contractor's site team. The concrete deck for the new carriageway will be cast over these units in the coming weeks.
The contractor has applied for another Temporary Road Closure of the Coolyhane Road (Mill Road) for a 5 week period commencing on Mon 7th September. If approved, this road closure will permit the contractor to construct the realignment of the Coolyhane Road (Mill Road) so that it will run under the new bridge and that will bring this element of the project to a conclusion.
Finally, the contractor would like to thank the residents of Masseytown, Coolyhane, Firville and Ummera for their co-operation with the original road closure and hopefully the work can be finished on schedule so as to keep the local impact to a minimum.